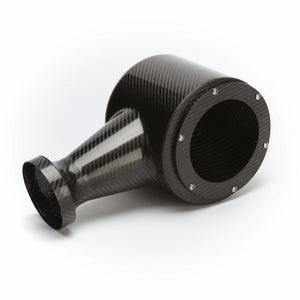 AB65C Carbon Airbox
Part Number: AB65C
A smaller version of the race car inspired AB80, this design philosophy was mirrored in this smaller version for road going applications. It was the basis for many of our early Maxogen induction kits and continues to be used where space and budget constraints allow.
All of our JC60FC filter range fit into this airbox.
Measurements
A - (Length) Measurement taken from airbox inlet (C), to filter spinning outlet (D). Rebated ARAB Spinning reduces length by approx. 20mm
B - (Width) Measurement taken at widest point of filter lid spinning.
Do not measure from screw to screw.
C - Inlet (Dirty air in) measurement taken as internal diameter.
See table for duct sizing guide.
D - Outlet (Clean air out) Compatable with JC60 Full Cone
All dimensions are in (mm)
Part No.
A (Length)
B (Width)
C (Inlet)
D (Outlet ID / OD)
BHP
AB65C w/ JC60/58FC
330
192
99
58 / 61
200
AB65C w/ JC60/60FC
330
211
99
60 / 63
220
      
AB65C w/ JC60/63FC
330
211
99
63 / 66
240
AB65C w/ JC60/67FC
330
213
99
67 / 70
270
AB65C w/ JC60/70FC
330
213
99
70 / 73
290
AB65C w/ JC60/73FC
330
209
99
73 / 76
300
AB65C w/ JC60/78FC
330
203
99
78 / 81
310
AB65C w/ JC60/84FC
330
205
99
84 / 87
330