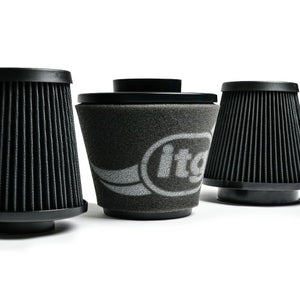 Foam Oversock (JC60PF0S)
Part Number: JC60PF0S
Through extensive testing, we have found that an ITG Pleated Filter combined with our Foam Oversock provides the ultimate filtration solution for the dustiest of conditions, while retaining maximum possible airflow into your inlet system.

Pleated Maxogens have been optimized to work best with ITG Foam Oversocks as they significantly improve filtration capabilities.

There are sizes available for our full range of Pleated Maxogen filters.
Measurements
See Compatible Part Numbers Below:/p>
| Part No. | Fits Below Rubber Neck Filters | Fits Below Aluminium Spinning Filters |
| --- | --- | --- |
| JC60PFOSC | JC60RN/70P, JC60RN/76P, JCRN/80P | JC60/67RPF, JC60/73RPF, JC60/78RPF |
| JC60PFOSLC | JC60RN/89P, JC60RN/102P, JC60RN/114P, JC60RN/127P | JC60/86RPF, JC60/99RPF |
| JC60PFOSPXL | JC60RN/89PXFL, JC60RN/102PXFL, JC60RN/114PXLF, JC60RN/127PXLF | - |
| JC60PFOSVSC | JC60RN/152VSCF | - |