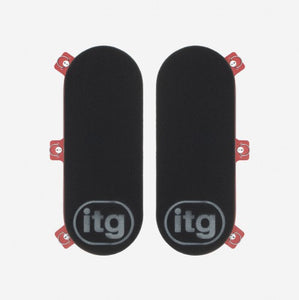 JC90 Multi Carburettor Filters
Part Number: JC90
The JC90 has been specially designed for the Porsche 911 with Weber IDA3C carburettors. The JC90 is supplied with two filters and two baseplates.

Available in both our Standard Straight Sided (JC90) and Sausage (JC90S) Filter styles.Primarily used on Ford V8 and IDA engines. The JC55 is a slightly longer version of our JC50 Megaflow Filter.
Measurements
A - (Internal Height mm) Distance from face of baseplate and the inside face of the filter
B - (Width mm) External width of the filter not including the lug
C - (Length mm) External length of the filter.
D - (Overall Height mm) Overall external height of the filter
| Part No. | A (Internal height) | B (Width) | C (Length) | D (Overall height) |
| --- | --- | --- | --- | --- |
| JC90 | 80 | 142 | 379 | 105 |
| JC90S | 80 | 142 | 379 | 105 |